Bringing the Heat – Thank You!
Posted: 04-Mar-2021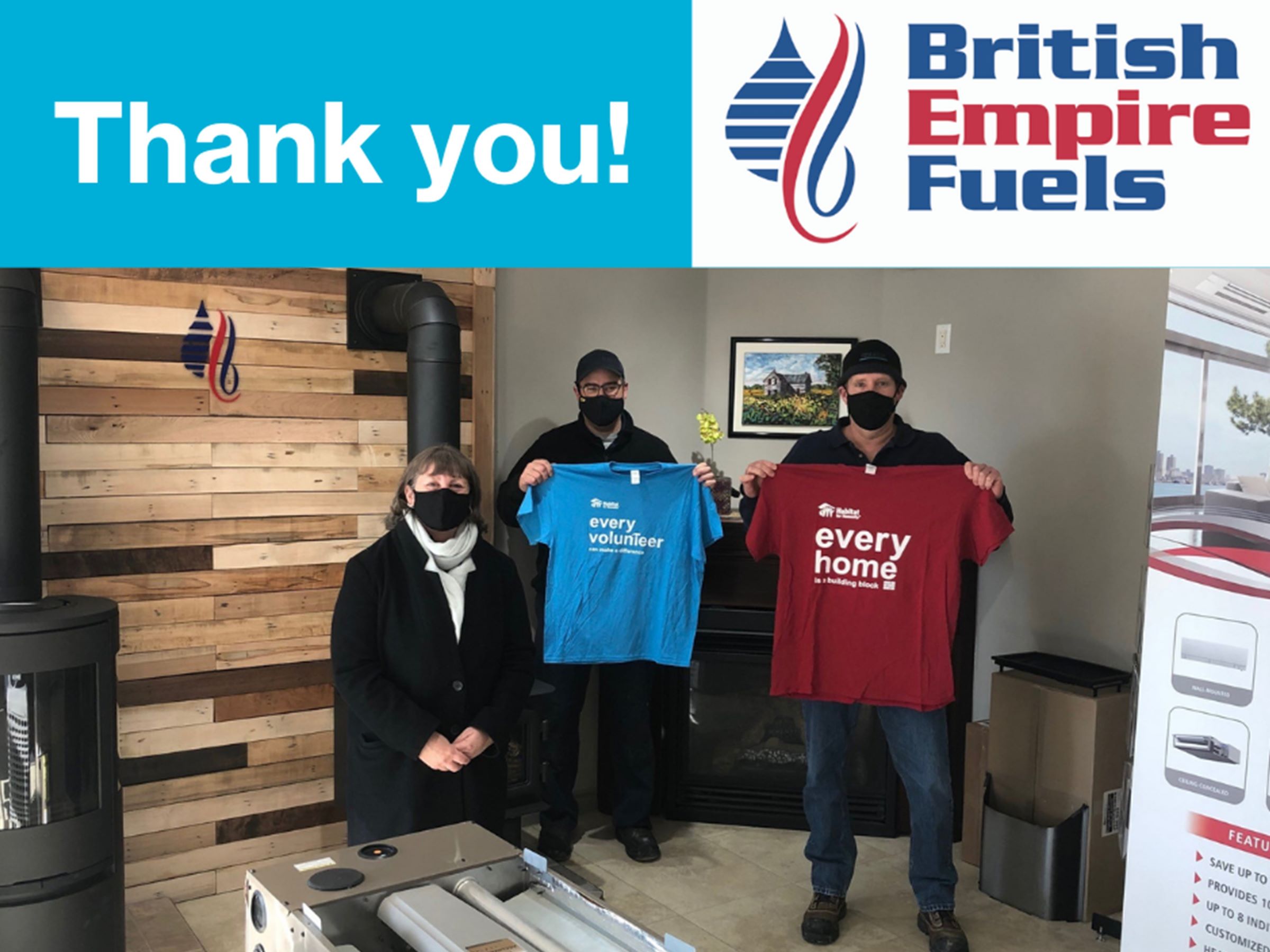 A huge thank you to the AMAZING community-minded team at British Empire Fuels Inc. for their incredible support in helping to build two Habitat homes in Bobcaygeon.
Habitat for Humanity Peterborough & Kawartha Region recently completed the construction of its first two Habitat homes in Bobcaygeon – and British Empire Fuels played a key role in the success of these builds.
Right from the very first announcement of the builds, British Empire Fuels stepped up immediately and asked how they could help. They worked with their friends at Bardon Supplies Limited in Peterborough and Lennox to bring the heat (literally) by donating the HVAC system and most of the labour for installation for both homes. We are so grateful for this amazing partnership and generous contributions to help empower through shelter.
The goodwill and kindness of British Empire Fuels, Lennox, and Bardon Supplies Limited have helped to provide a strong foundation for two local Bobcaygeon families. A Habitat home is a stabilizing force for a family. Better, affordable living conditions lead to improved health, stronger childhood development, and the ability – and financial flexibility – to make forward-looking choices.
Support from Habitat Peterborough & Kawartha Region's partners, donors, and volunteers helps Habitat for Humanity build strength, stability, and self-reliance through affordable homeownership in your community. We truly can't do what we do without donors like you – thank you for helping to empower through shelter!
British Empire Fuels is a local family-owned and operated business in Kawartha Lakes. With over 70 years of experience, British Empire Fuels is the trusted name in propane, HVAC, and fuel oil delivery in Kawartha Lakes and Trent Lakes. Click here for more info.
Bardon Supplies Limited is a full line stocking wholesale and retail distributor of plumbing, HVAC, and industrial pipe, valves, and fittings, recognized by all major manufacturers. Established in Belleville, the company has grown to include wholesale distribution locations throughout Ontario, including Peterborough. Click here for more info.
Lennox makes people feel comfortable in their homes. They make the air cooler, warmer, dryer, cleaner, and better, with innovative systems that are exceptionally quiet and energy-efficient. All brought to you by Dealers with the expertise and resources to serve you in the best possible way. Click here for more info.
For more information on Habitat for Humanity's affordable homeownership opportunities in the Peterborough and Kawartha Region, please contact homeownership@habitatpkr.ca.