Please Note Posting is NOW CLOSED – We're Hiring – a Community Engagement Coordinator
Posted: 28-Jan-2020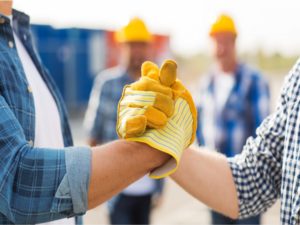 Join our team! Habitat for Humanity Peterborough & Kawartha Region mobilizes volunteers and communities to help working, lower-income families and individuals build strength, stability, and self-reliance through affordable homeownership.
With the increasing costs of housing in the Peterborough and Kawartha Region, more and more families struggle to keep a decent roof over their heads. Caught in punishing cycles of unpredictable rent increases, overcrowded or unsafe living conditions, and inaccessible financing, these families live with the constant burden of uncertainty and stress.
Habitat for Humanity Peterborough & Kawartha Region knows that safe, decent and affordable homeownership plays a critical role in helping families create a new cycle, one filled with possibilities and advancement. Affordable homeownership frees families from housing uncertainty and fosters the skills and confidence they need to invest in themselves and their communities. The outcomes can be long-lasting and life-changing.
If you have great energy, love working with people and you are looking to make an impact in your community, then this is the opportunity for you.
We offer:
A meaningful opportunity to make a difference in your local community and to have first-hand contact with the families whose lives are transformed by our work
The pride of being part of a highly respected, high profile global charity
A stimulating, fast-paced professional opportunity in a team of like-minded 'world-changers'
Habitat for Humanity Peterborough & Kawartha Region is looking for a Community Engagement Coordinator to join our team for a one-year contract (with a strong chance of renewal). Reporting to the Director of Philanthropy & Communications, you will be a key player in ensuring quality experiences for all volunteers.
Read the full job posting by clicking here: Habitat for Humanity PKR – Community Engagement Coordinator
To indicate your interest in this position, submit your resume and a detailed cover letter, including your salary expectations to hr@habitatpkr.ca. Please quote the job title in the subject line.
Applications must be received by February 7, 2020 at 12:00pm.
Your future at Habitat for Humanity Peterborough & Kawartha Region awaits…