Meet Jordan – Leahy's Lane
Posted: 28-May-2021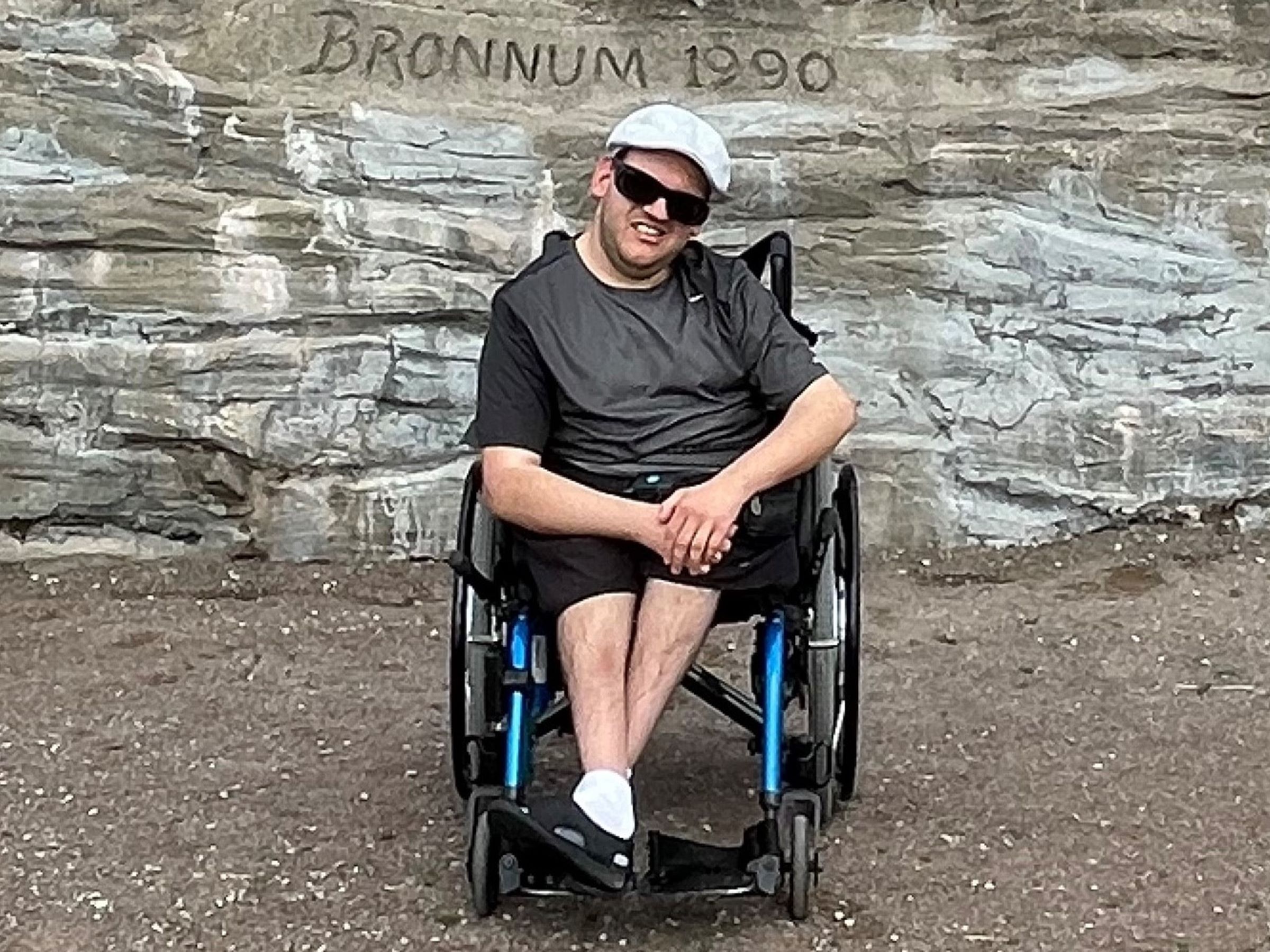 "My current apartment is not well suited for persons who use wheelchairs," says Jordan.
Currently, Jordan lives on the third floor of a local apartment building – which is a fire safety issue for someone who uses a wheelchair. Jordan also has hearing impairments and depth perception challenges.
The concrete on the ramp at the front entrance to his apartment is crumbling. The doorways are only 30" wide – which is not wide enough for someone in a wheelchair to easily navigate. The stacked washer and dryer are also inaccessible for someone in a wheelchair. There is a roll-up instead of a roll-in shower – another major safety issue. Even being able to open and close the curtains is a challenge in this apartment.
Rather than providing Jordan with a strong foundation and stability, his apartment is a challenging space full of daily obstacles.
Having a good job working in the Computer Science Department at Trent University and becoming established in his career, Jordan began looking to purchase a home instead of paying rent.
What I discovered was there were very few accessible homes available, and the cost of purchasing in this market was very high, and thus, unattainable. It was frustrating to be in a situation where I earned a decent wage but was unable to purchase a home.
Jordan is very happy to have been selected as one of the 41 new homeowners at Habitat for Humanity Peterborough & Kawartha Region's new affordable condo development, currently under construction on Leahy's Lane in Peterborough.
"I am at a stage in my life where I'm ready to take on the responsibilities and financial obligations of homeownership. I am confident I will be successful in this endeavour," says Jordan.
Thanks to Habitat for Humanity Peterborough & Kawartha Region and the generous support of 100 Men of Peterborough, Jordan's condo at Leahy's Lane will be customized to ensure that it has all the necessary features for Jordan – ensuring that it is barrier-free and that Jordan can access all areas of his home.
Customizations like a roll-in shower with special grading and draining, appliances with accessible controls on the front, accessible countertops and vanity, a front-loading washer and dryer (not stacked), wider doorframes, and fewer hallways, sliding pocket doors, remotely activated blinds, and more. Plus, the building has a universal design to accommodate homeowners' accessibility needs (current or future), and the three-story building has an elevator.
Through shelter, Habitat for Humanity Peterborough & Kawartha Region empowers people. New homeowners will have a decent place to live with an affordable mortgage which helps them to save more, pursue opportunities, and have more financial stability.
By purchasing a condo through Habitat for Humanity, I am moving on to the next chapter of my life. In my current apartment building, there is no common space, so I am fairly isolated. I'm looking forward to the Leahy's Lane building as I feel there will be more opportunities to be part of a community. I'm also excited to experience the pride of ownership.
Jordan enjoys watching and collecting movies, travelling, planning for future trips, and reading books on Canadian and American history, which is how he first learned of Habitat for Humanity.
"I first learned about Habitat for Humanity through my interest in American history. I had read about the involvement of President Jimmy Carter and his wife Rosalynn," says Jordan, "and then I learned about this local build from an article in the newspaper."
I feel extremely fortunate that this opportunity came up. I am certain that without it, I would not be in a position to own a home – and an accessible home. I am very grateful to Habitat for Humanity Peterborough & Kawartha Region for this opportunity to become a homeowner!
You could be a homeowner. Interested in learning more about Habitat for Humanity Peterborough & Kawartha Region's homeownership program? Click here.