Meet the Homeowners – Leahy's Lane
Posted: 10-Apr-2023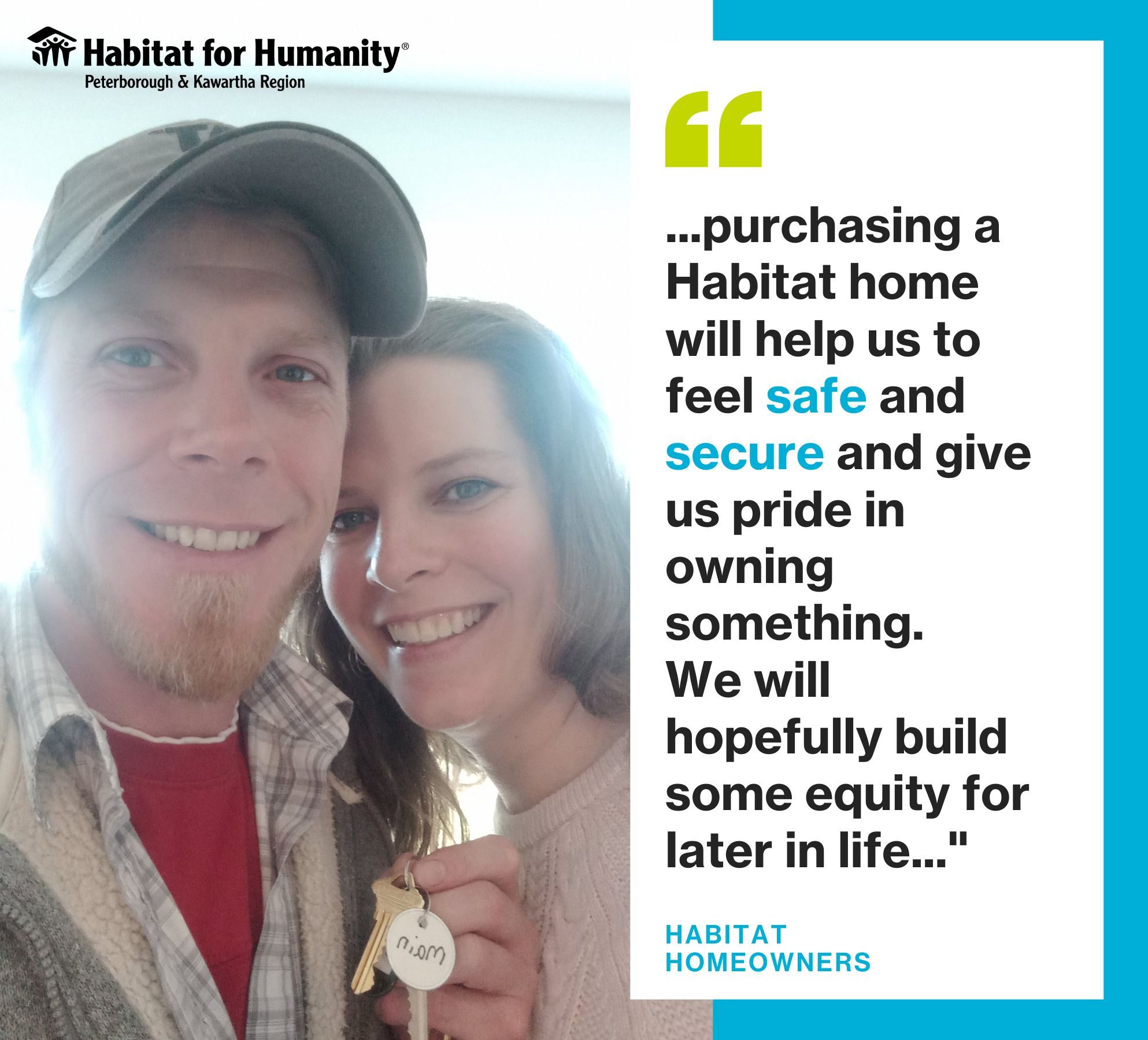 The couple was living in an apartment complex with many individuals who unfortunately didn't share the same views and values, and who didn't take pride in where they lived. 
"Ever since we were young being a homeowner was our main goal. Yet, like many experiences in life, things came up, life dreams and goals shift or develop differently," the couple told us. 
We slowly watched our dream of being a homeowner get less obtainable as each year passed. We would do everything right – save, budget, plan, etc. But there was no way to get into this market with a one-income household," they said.
They learned about Habitat for Humanity Peterborough & Kawartha Region and its mission to provide safe, decent, and affordable housing from an article about the development of 33 Leahy's Lane. Without hesitation, they decided to apply to Habitat PKR's homeownership program.  
The possibility of purchasing a Habitat home will help us to feel safe and secure and give us pride in owning something. We will hopefully build some equity for later in life," the couple said. 
The couple was excited to have been selected as one of the 41 new homeowners for Habitat PKR's new affordable condo development on Leahy's Lane in Peterborough. They moved into their home in April once construction was complete. 
A Habitat for Humanity home is a stabilizing force for a family. Better, affordable living conditions lead to improved health, stronger childhood development and the ability – and financial flexibility – to make forward-looking choices. 
We are so thankful to be Habitat PKR homeowners. They are helping local families and individuals like us to get ahead!
Habitat for Humanity homeowners must complete a minimum of 500 volunteer hours before they move into their Habitat homes. The couple completed their hours by volunteering at Habitat ReStores in Peterborough.  
Prior to moving in, we asked them what the first thing they would do once moving into their new home was and they said, "have friends over for a games night in a place that we can be proud of." 
When they are not at work, the couple enjoys spending time with friends, family, and playing with their cats. 
Interested in learning more about Habitat for Humanity Peterborough & Kawartha Region's homeownership program? Click here.