Charlotte Cares Program Supports Habitat's 41-Unit Condo on Leahy's Lane
Posted: 25-Apr-2022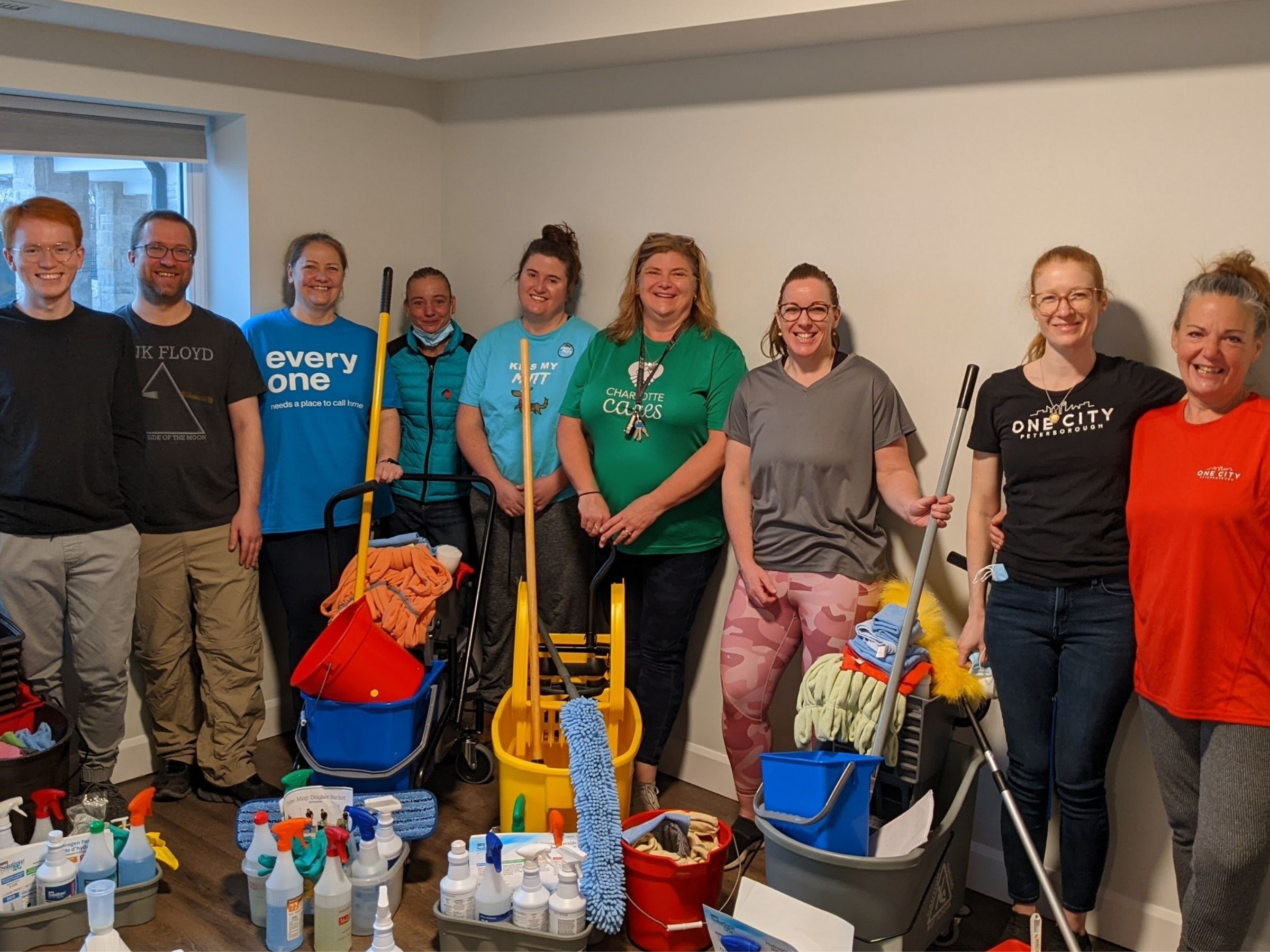 At Habitat for Humanity, we help give families the strength, stability, and independence they need to create a better life for themselves, and their families. What better way to start that new journey as homeowners than with a safe and clean home?
That's where the Charlotte Cares Program steps in to help.
The Charlotte Cares Program is an initiative of Charlotte Products, where staff volunteer in their local communities to collectively make a difference and inspire others to participate in creating safe and healthy spaces for future generations and those in need.
Our goal is to assist in the communities in which our employees and distributor partners work and live as often as possible. We hope to show that cleaning can be simple, safe, and fun. Cleaning makes people feel good; therefore, we take the opportunity to educate people on how to clean properly and inspire many others to help those in need." says Jennifer Meek, Director of Marketing.
Charlotte Products has been an integral support for Habitat for Humanity Peterborough & Kawartha Region and the affordable homeownership program by donating time and products to clean local Habitat homes before new homeowners move in.
Traditionally, Habitat builds in the Peterborough & Kawartha Regions have been detached or semi-detached homes that provide an opportunity for homeownership for one local family. But on Habitat's 20th anniversary, that all changed with the completion of a 41-unit affordable condo building on Leahy's Lane in Peterborough.
With 41 homeowners and a tight deadline before move-in dates, Habitat approached Charlotte Cares to see if they could provide any support, and they were up for the challenge!
By volunteering our services, expertise, and product we are able to assist with some deep cleaning and provide cleaning knowledge and products to the teams that care for various organizations and facilities in our communities. Our team is thrilled to donate products and clean every home before the dedication to the new family that Habitat for Humanity locally builds in Peterborough and the Kawarthas," says Jennifer Meek.
Habitat for Humanity PKR is so thankful for their partnership with the Charlotte Cares team and their dedication to sustainability and creating safe, healthy spaces.
It's so nice when local organizations and businesses can come together to support our community. We are so appreciative of the Charlotte Cares team and their help on our local builds. Especially with the size and scope of our new 41-unit condo building, we couldn't have had the condos ready for homeowners to move in without their time and support." says Jenn MacDonald, Habitat's Communications & Donor Services Manager.
Charlotte Cares also supports local organizations like One Roof and One City PTBO with cleaning knowledge, products, and support as needed to ensure the safety of their employees, volunteers, and guests with safe, healthy spaces.
We are thrilled to support One City PTBO with their Employment programs The Clean Team & the Downtown Street Cleaning Teams and their commitment to support community members with employment training, opportunities, and encouragement to re-enter the workforce in a positive way. We were particularly happy to have Angie, Lynn, and Jenny join us from One City PTBO to assist in the Leahy's Lane Initiative. We were also very thankful for the support of our distribution partner Swish Maintenance and specifically Pete, Lyndon, Sara, Justin, Kyle, Brian, and Lindsey that came to support then Charlotte Cares Team Americo, Cathy and Jen D." says Jennifer Meek
Visit Charlotte Cares Program to learn more.
About Charlotte
Since 1986, Charlotte Products Ltd™ has been helping people everywhere live healthier and safer lives. We are the pioneers of certified green cleaning and a leading performance formulator and manufacturer globally supporting our partners by creating effective, healthy, and environmentally responsible cleaning solutions. We combine sustainable, green-certified, and innovative products with simplified programs, product training, and resources by market segment, to inspire our customers to join us as industry experts in creating safe healthy spaces. Given today's climate with the current SARS-CoV-2 (Coronavirus) and COVID-19 Disease globally, Charlotte Products shared insight and knowledge transfer has never been more important.