Family of World War I Veterans Located After Medals Donated to Habitat for Humanity Peterborough ReStore
Posted: 07-Nov-2019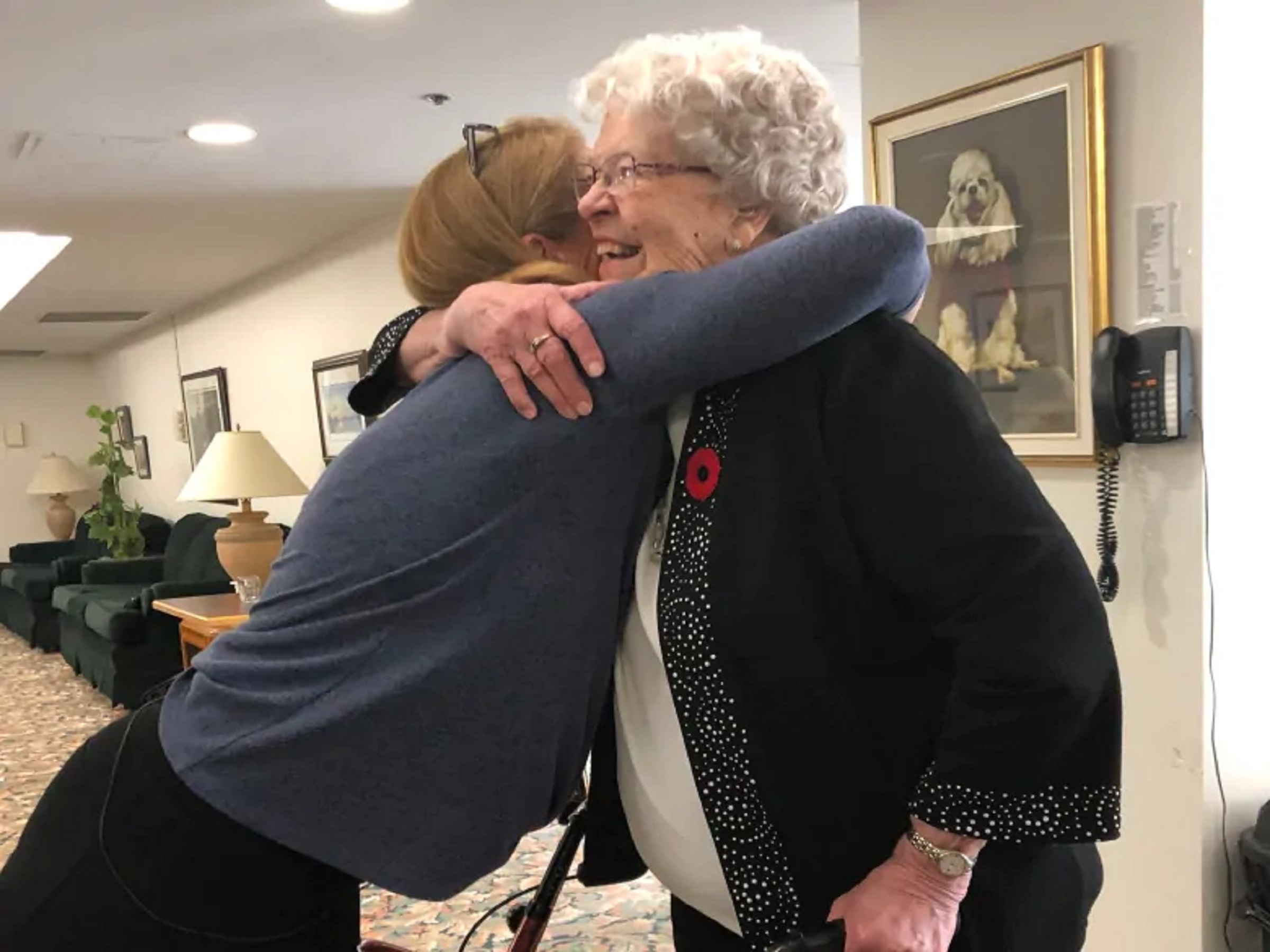 A surprise discovery leads to a happy ending for a local Peterborough woman.
Catherine Allen was reunited with her father and grandfather's World War I medals yesterday, thanks to weeks of research by Habitat for Humanity Peterborough & Kawartha Region.
"Every donation that comes into the Habitat ReStore is a new adventure," says Christina Skuce, Director of Philanthropy & Communications with Habitat Peterborough, "you just never know what is going to be in the back of someone's vehicle or buried in a box, when someone shows up to donate items to the ReStore. Over the years we've had a series of interesting items donated to the ReStores, but nothing ever this important."
A Habitat for Humanity staff member found the medals along with a swagger stick at the bottom of a box donated to the Peterborough North ReStore.
"We knew this collection was sentimental and had to be returned to the family," said Skuce, "we could never imagine selling these items."
After the collection was found, a Habitat Peterborough Board member, Jill Bennett, spent weeks investigating the origins of the medals to ensure that they were returned to the right family.
Through her research and the support of Major W.G. Campbell, Medals Advisor with The Royal Canadian Legion, Bennett was able to trace the medals to Major George Raymore Scott and Honourary Captain Reverend Andrew Joseph Vining.
From there, the medals were traced to a relative, living in Peterborough, Catherine Allen. Catherine, now in her nineties, is the daughter of Major Scott and granddaughter of Reverend Vining (father-in-law of Major Scott).
"Habitat Peterborough is very proud to be able to return these items to the family they belong to," said Bennett. "This is an important piece of a family's history and I was honoured to do my part to reunite this precious collection with its rightful owners."
The medals in the collection include a Silver Jubilee Medal (1935), Victory Medal (1914-1918) and a British War Medal (1914-1918) – all awarded to Reverend Vining.
The collection also includes a British Coronation Medal (1937), Canadian Efficiency Decoration (1940), Victory Medal (1914-1918), and a British War Medal (1914-1918) – all awarded to Major Scott. The collection also includes a swagger stick stamped with Major Scott's initials.
Major Scott was a doctor in Peterborough and in 1946 founded the Scott Medical Clinic on George Street.
The medals were returned to Catherine Allen yesterday at her home in Peterborough.
For more media coverage, please visit:
Peterborough Examiner: https://www.thepeterboroughexaminer.com/news-story/9680625-family-s-lost-first-world-war-medals-returned-to-92-year-old-peterborough-woman/
Peterborough This Week: https://www.mykawartha.com/news-story/9680241-video-wwi-medals-donated-to-restore-handed-back-to-family/
PTBO Canada: https://www.ptbocanada.com/journal/2019/11/6/world-war-1-medals-were-returned-to-peterborough-woman-after-amazing-discovery-at-habitat-for-humanity-restore-in-peterborough
Global News (CHEX): https://globalnews.ca/video/6136790/ww1-medals-turn-up-in-a-donation-box-find-their-way-back-to-owner
PTBO Today: https://www.ptbotoday.ca/2019/11/07/25442/
CBC News: https://www.cbc.ca/news/canada/toronto/lost-first-world-war-medals-1.5350747
For more information on Habitat ReStore please visit: https://habitatpeterborough.ca/restores/