Habitat Canada's Bottle Drive in Partnership with The Beer Store
Posted: 21-Aug-2023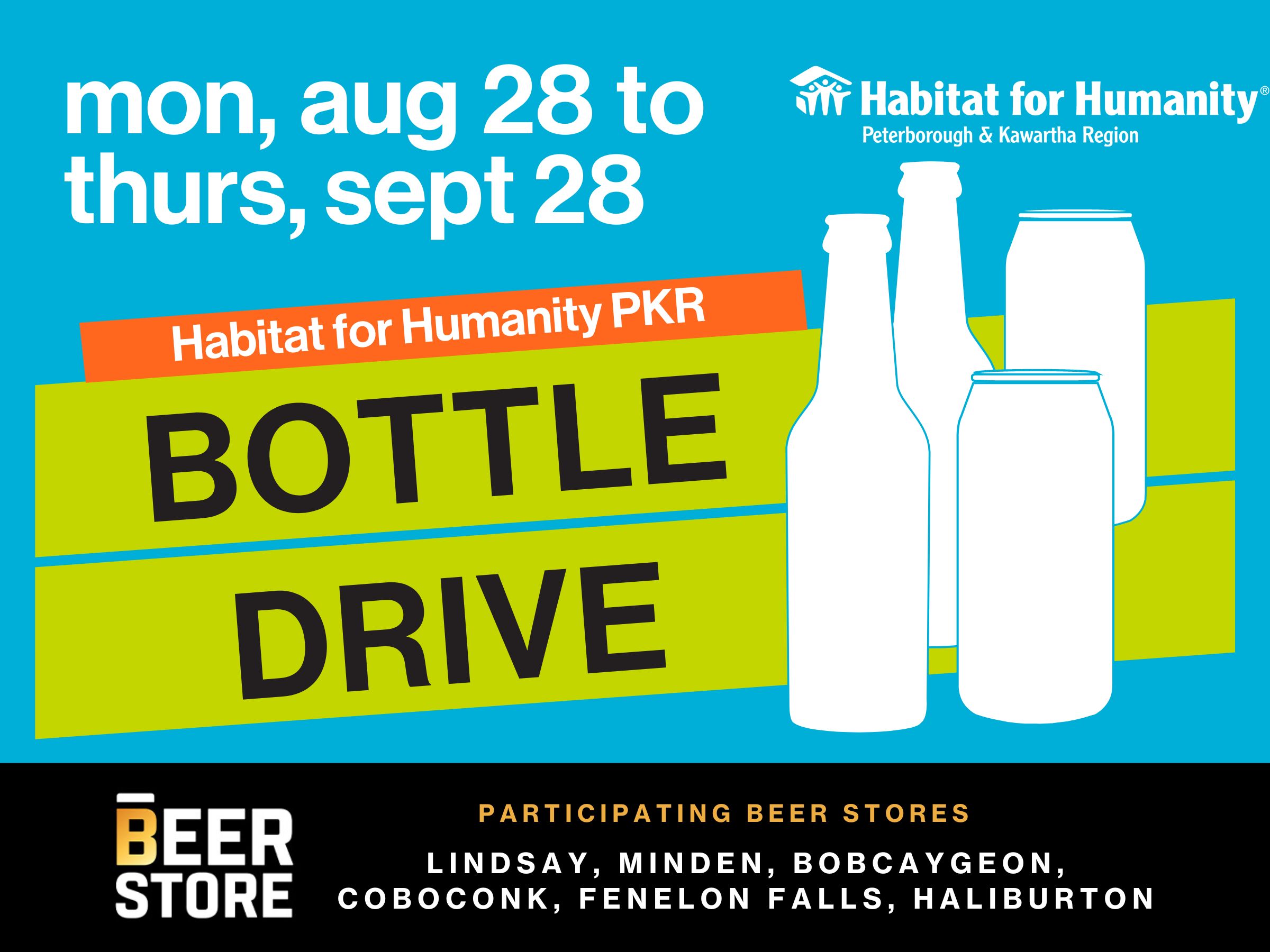 Mark your calendars and gather those empties!
The eagerly awaited bottle drive campaign is back at select The Beer Store locations from August 28th to September 28th. We're excited to once again team up with The Beer Store to make a meaningful impact. During this initiative, select The Beer Store locations will be accepting donations of empties and cash to support build projects in the Peterborough & Kawartha Region!
Curious about how a bottle drive operates?
For more than 80 years, The Beer Store has been a proud leader in environmental stewardship. When you purchase beverage containers, the deposits paid are refunded to customers upon return. Through the Ontario Deposit Return Program, The Beer Store now welcomes all beverage alcohol containers purchased in Ontario with a deposit. Containers exceeding 100ml carry a deposit value of either 10 or 20 cents, which can be optionally donated during the bottle drive.
How can you lend a hand?
The answer is easy – keep your empties! From August 28th to September 28th, donate your empty alcohol bottles and cans to a participating The Beer Store location or drop them off at our Peterborough North ReStore, Peterborough South ReStore or Lindsay ReStore. By simply returning your empties, you're playing an active role in turning the dream of safe, decent, and affordable housing into reality for local families. Your support goes a long way in building stronger communities.
Count me in!
PARTICIPATING THE BEER STORE LOCATIONS
370 Kent St. W.
12325 Hwy. #35
25 King St. E
6716 Hwy. #35, PO Box 269
125 Lindsay St.
370 Kent St. W.
OR VISIT YOUR LOCAL HABITAT RESTORE TO DROP OFF DONATIONS
300 Milroy Dr.
550 Braidwood Ave.
55 Angeline St.
For any questions or more information, please contact Holly at holly@habitatpkr.ca