Habitat PKR Wins Expanded Impact Award at the National Conference!
Posted: 16-May-2023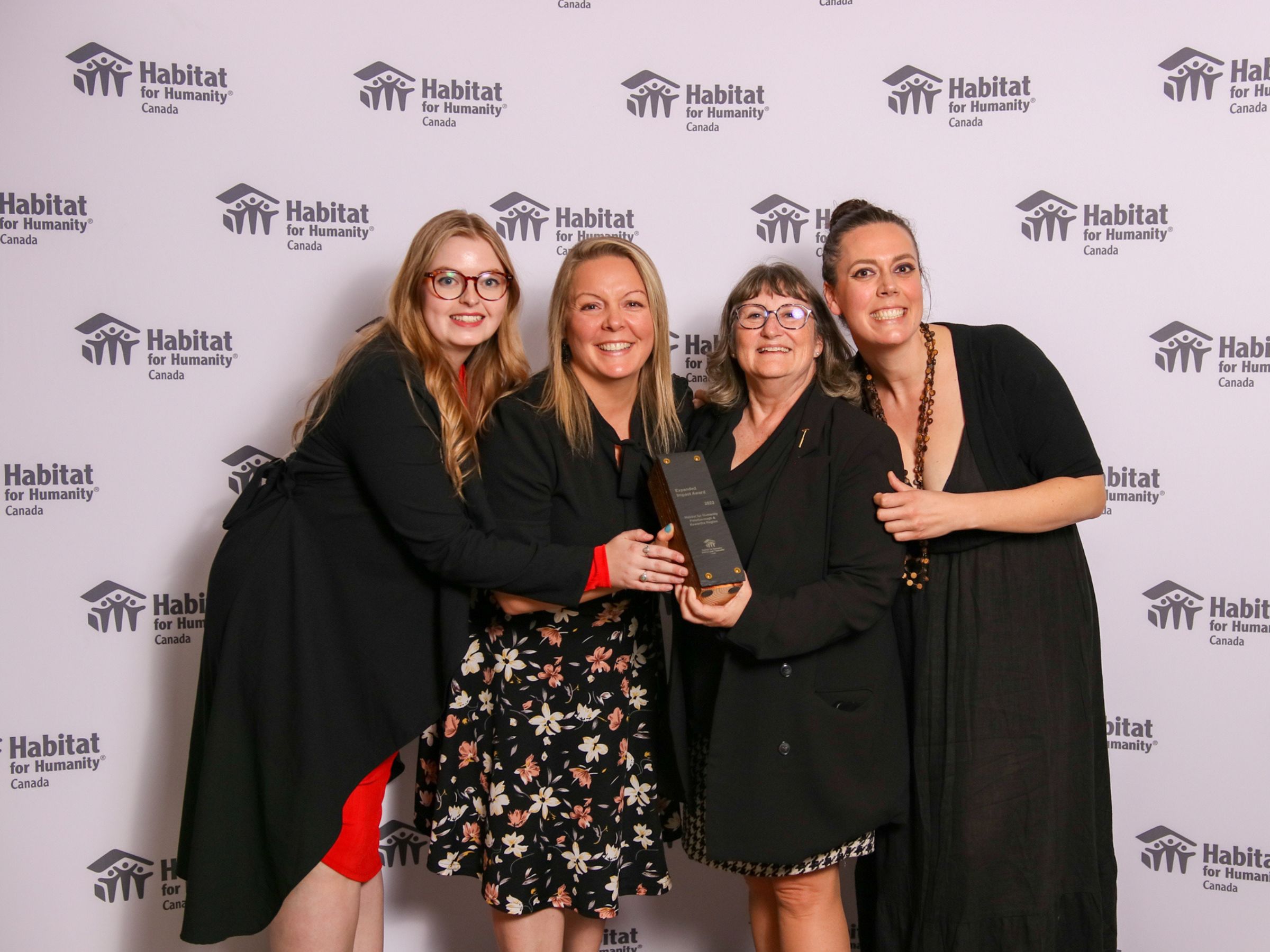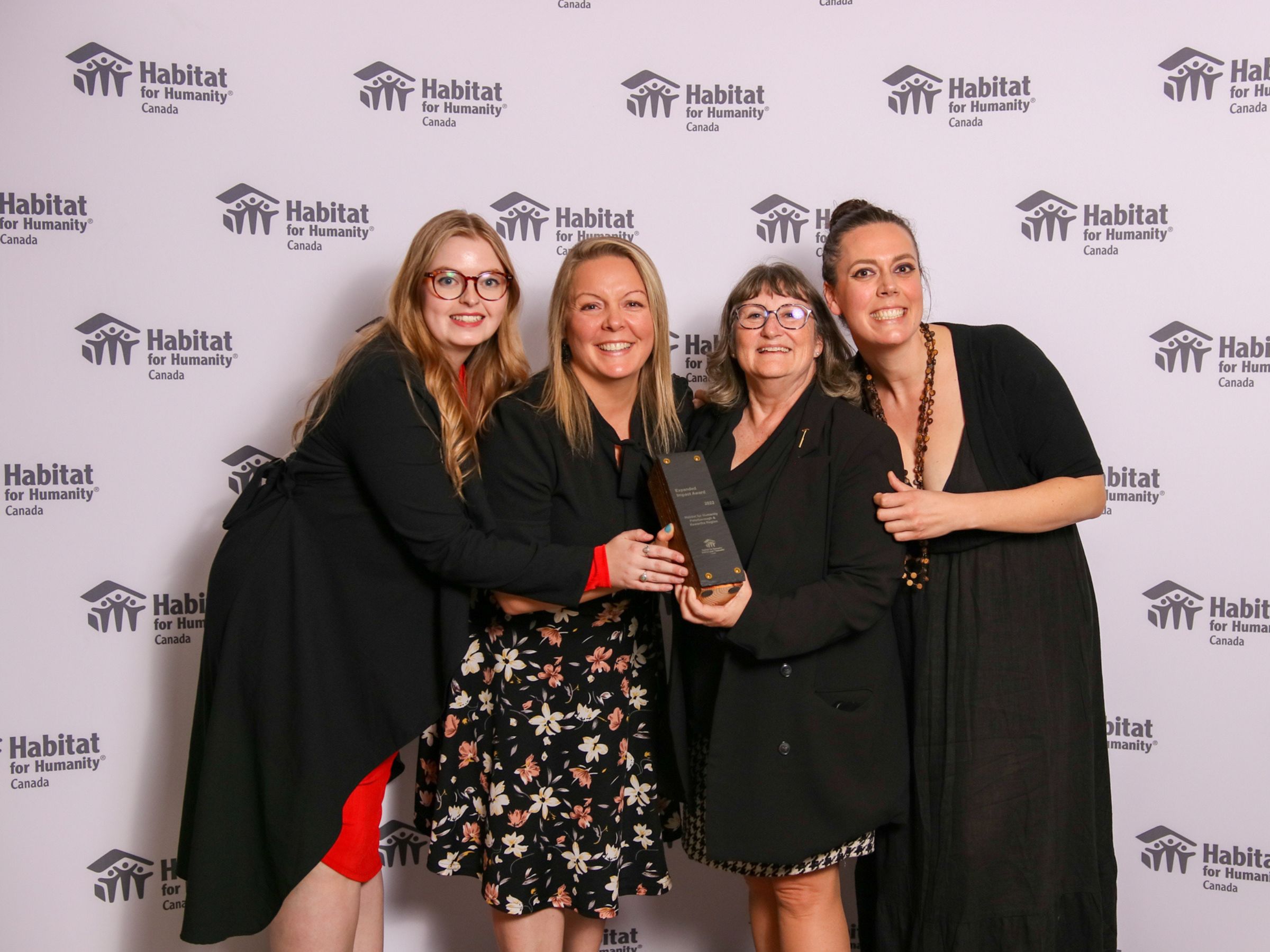 Habitat for Humanity Peterborough & Kawartha Region (PKR) wins the Expanded Impact Award for expanding its homeownership eligibility for the Leahy's Lane condo project. The affiliate was awarded during the Habitat for Humanity Canada National Conference and Annual General Meeting held last May 10-12, 2023 in Winnipeg, MB. Ten other Habitat Canada affiliates, as well as exceptional volunteers, were also recognized for their efforts and accomplishments during the conference.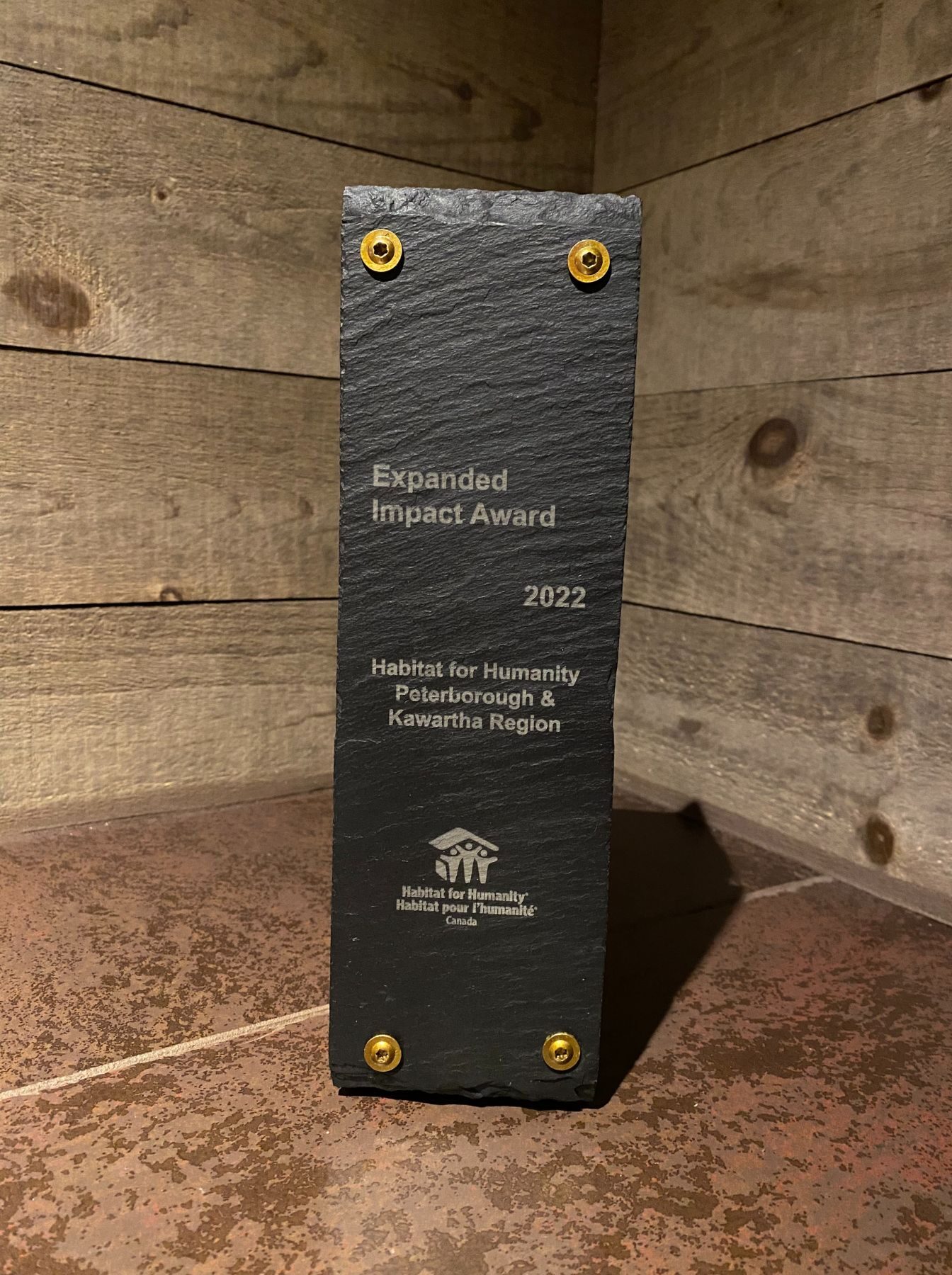 The Expanded Impact award recognizes Habitat affiliates that have significantly increased its impact over the past year. Completed in 2022, Habitat PKR's 41-unit condo project on Leahy's Lane opened its doors to individuals, couples, and seniors – members of the community in need of affordable housing that had not been eligible for this Habitat's affordable homeownership program in the past. The first phase of its Leahy's Lane condo project has 41 homeowners comprising 28 individuals, couple or sibling homeowners, including one senior couple. This project is also the first multi-unit build of its size completed in one phase by a Canadian Habitat and allowed Habitat Peterborough & Kawartha Region to increase its impact in 2022 by 50% from its first 19 years of operation.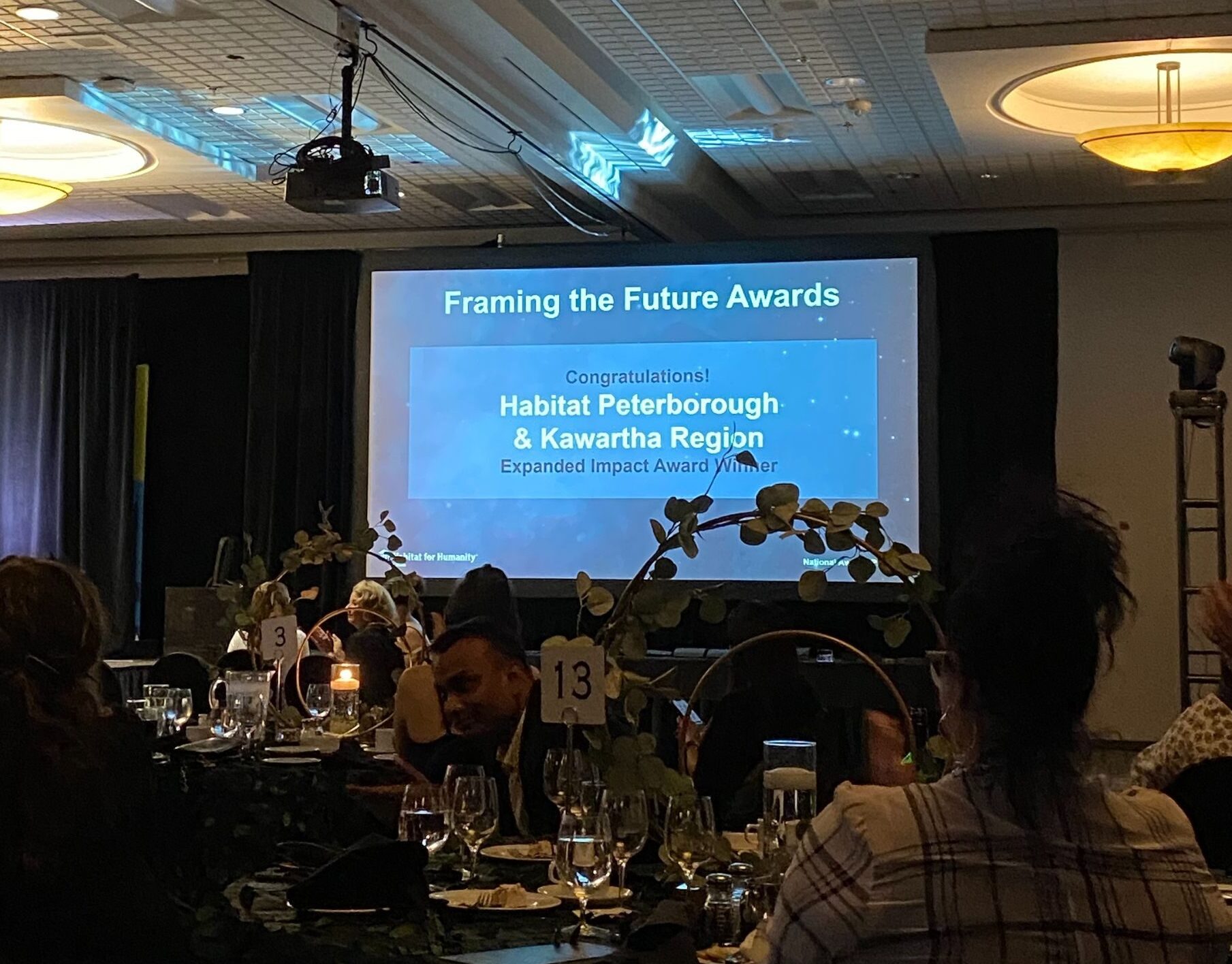 Habitat PKR CEO, Susan Zambonin received the award, and was joined in celebration by Director of Construction Kylie McGrath, Director of Operations Christina Skuce, and Communications and Donor Services Manager Jenn MacDonald, representing Habitat PKR at the National Conference.
I'd like to congratulate all the winners of this year's awards. These awards showcase the exceptional work of local Habitats across Canada that further our mission by providing families in need of housing with a safe, decent and affordable place to call home.

Julia Deans, President and CEO of Habitat for Humanity Canada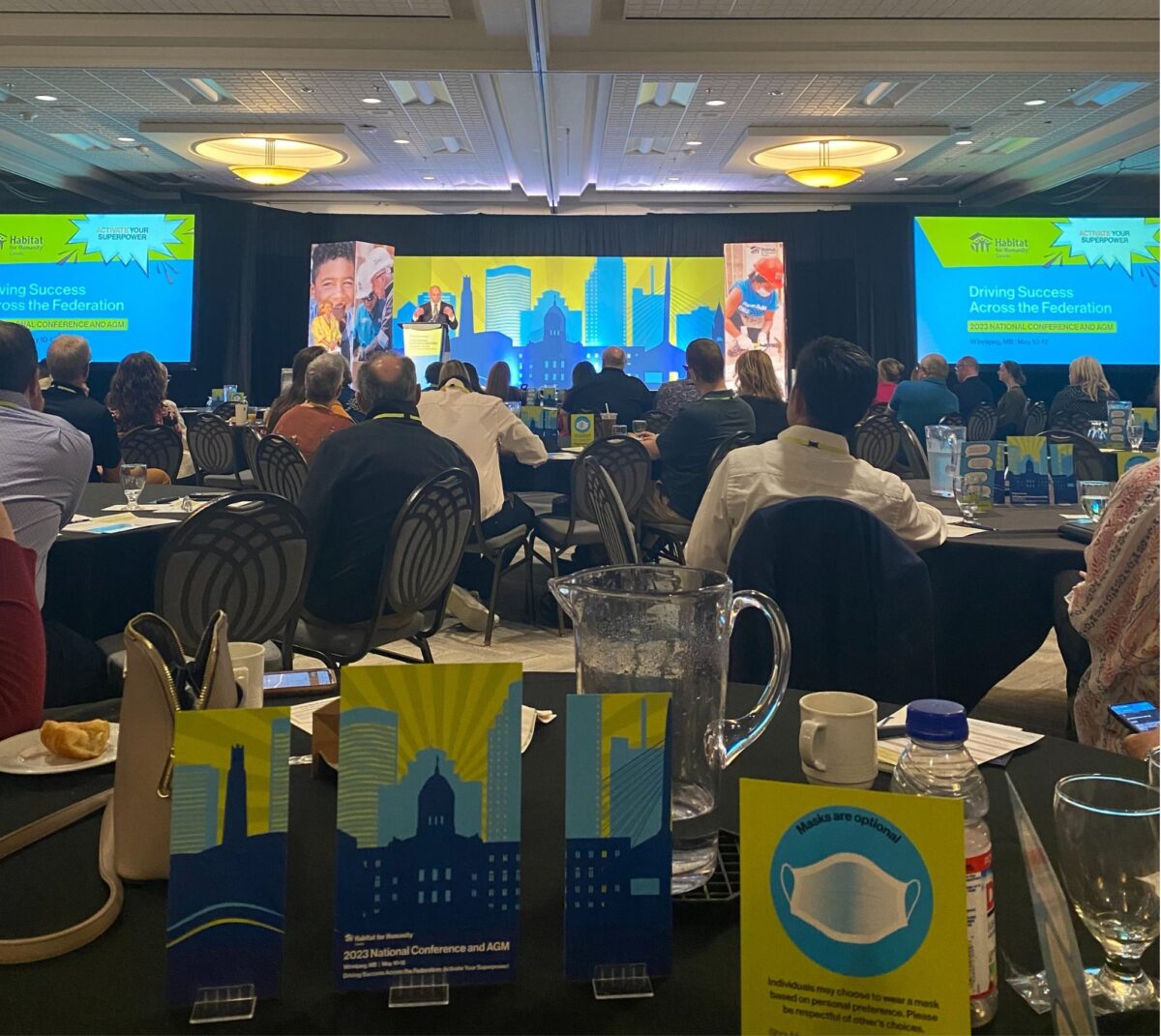 The Habitat Canada National Conference and Annual General Meeting, hosted by Habitat Manitoba, welcomed federation members from across Canada to come together to learn, network, collaborate, and celebrate our past year's successes towards building more safe, decent, and affordable homes across the nation. The theme for this year's National Conference was "Driving Success Across the Federation: Activate Your Superpower". Congratulations to everyone who made this event a success! We had a great time building connections with other affiliates, meeting old friends and new! 
Read more about the Habitat Canada National Conference awards.
Habitat PKR would like to thank Habitat Canada for this recognition, and to all our donors, partners, and volunteers for helping us attain this accomplishment. We would not have been able to provide these members of the community a hand-up into affordable homeownership, without your support.
About Habitat for Humanity Canada
Founded in 1985, Habitat for Humanity Canada is a national charitable organization working toward a world where everyone has a decent and affordable place to call home. Habitat for Humanity brings communities together to help families build strength, stability and independence through affordable homeownership. With the help of volunteers, Habitat homeowners and 46 local Habitats working in every province and territory, we provide a solid foundation for better, healthier lives in Canada and around the world. Habitat for Humanity Canada is a member of Habitat for Humanity International, which was established in 1976 and has grown to become a leading global nonprofit working in more than 70 countries.
For more information, please visit www.habitat.ca
Interested in supporting more affordable home-building projects in your community?
Thank you for your interest in supporting Habitat PKR in providing much-needed safe, decent and affordable housing in Peterborough & the Kawartha Region. Your generosity helps families, individuals, couples, & seniors, achieve their dream of purchasing their own home, helping local households build strength, stability, and independence.