International Day for the World's Indigenous Peoples
Posted: 29-Jul-2022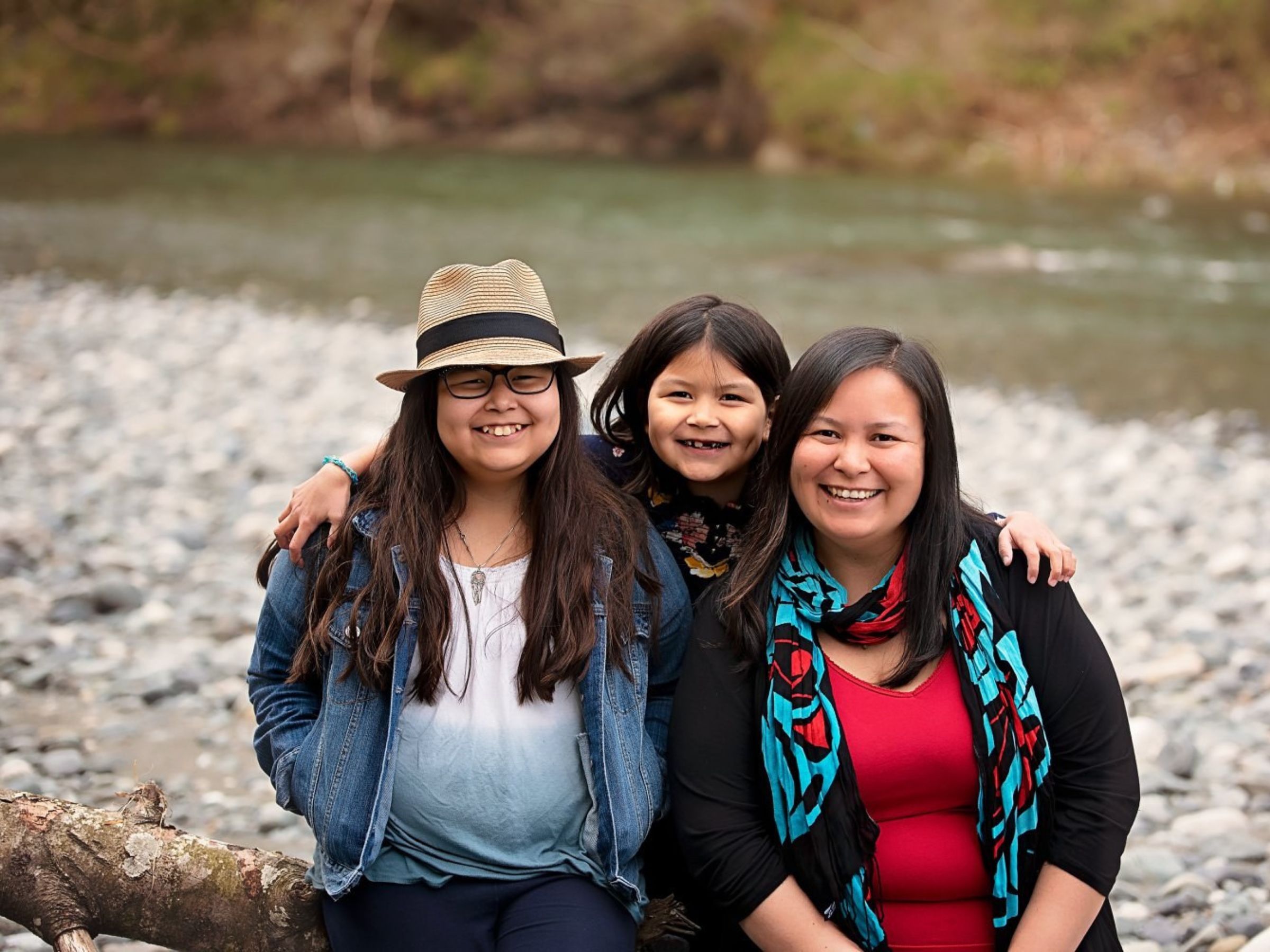 August 9th is International Day for the World's Indigenous Peoples. We pause to remember that, according to the United Nations, there are over 476 million Indigenous Peoples living in 90 countries across the world, accounting for 6.2 percent of the global population.
Indigenous Peoples are the holders of a vast diversity of unique cultures, traditions, languages, and knowledge systems. They have a special relationship with their lands and hold diverse concepts of development based on their own worldviews and priorities.
More than 1.67 million people in Canada – 4.9% of our population – self-identified as Indigenous person on Canada's 2016 Census. Sadie and her daughters, Raeanne and Janna, have spent the past few years living in her parents' home on the Halalt First Nation Territory, in extremely tight quarters, with Sadie and Janna sharing a room.
Affording her own home seemed an impossibility. Through Habitat's pathway to affordable housing, the Indigenous Housing Partnership, and funding from the Canada Mortgage and Housing Corporation (CMHC) and BC Housing, Sadie and her daughters will be moving into their new home very shortly, with an affordable mortgage geared to Sadie's income for the fair market value of their home. This is why we build.
Read more about Sadie's story here…
Family Resources:
Where can you start to learn more? There are many ways to celebrate and honour the history, heritage, and diversity of Indigenous communities, including:
Know whose land you are on. If you are non-Indigenous, you are occupying land that is being colonized. You are a settler. To have a greater understanding of the land's original caregivers and history, visit Whose Land, an educational tool and interactive map. It is useful for understanding Indigenous treaties and communities across Canada. The website offers videos of appropriate land acknowledgments as well as some great Frequently Asked Questions.
Learn some Indigenous language. Just as a responsible and courteous traveler learns some basic language skills before immersing oneself in a culture and place that is not familiar, so should Canadians with Indigenous languages. There is a nationwide push for Indigenous language revitalization and for some to be recognized as official languages. Learn more about how to support the revitalization with this Guide to Indigenous Languages in Canada. In the short term, you could make someone's day by taking the time and respect to learn a few greeting and parting words.
Celebrate Indigenous Peoples in Canada with this learning and activity guide.
Learn some Indigenous recipes. Make delicious Bannock (fried bread) to share with loved ones.
Be culturally sensitive. This is past and present trauma. It's important to be sensitive when posting/sharing/discussing content that could be triggering and upsetting to people.
Know the protocol. Take the time before going to powwows or a ceremony to understand the protocol, through research, or by kindly asking a volunteer or worker once you've arrived. Read A Guide to Taking Your Family to a Powwow for the First Time (available on CBC) for some powwow protocol.
Get curious about Indigenous literature:
•The Canadian Children's Book Centre has compiled a list of First Nations, Inuit, and Métis books for libraries and classrooms.
•The Government of Canada has compiled an #IndigenousReads reading list.
•CBC has shared a list of "35 books to read for National Indigenous History Month" as well as "108 Indigenous writers to read, as recommended by you".
Support Indigenous businesses and services. There are many Indigenous businesses and services that would benefit from non-Indigenous customers, and shopping with them can be a great way to support Indigenous people. Visit the Canadian Council for Aboriginal Businesses Membership Directory to find an array of Indigenous businesses from across Canada (search by province, name, or sector).
Understand that it is not the job of Indigenous people to teach you. Metis-Irish author, Melanie Lefebvre, wrote, "If you don't have time to educate yourself, then I can't help you, in "It's Not My Job to Teach You about Indigenous People" published in The Walrus. Individuals should not expect that all Indigenous people are experts on all things Indigenous, nor that they have the time or energy to teach. Google can be a great start in educating yourself.
Connect with your local friendship centre. Relationship building with your local friendship centre can support your allyship journey, build knowledge of nearby Indigenous communities and support reconciliation–all of which can help local efforts to intentionally engage with Indigenous communities in your area.
Watch Heritage Minute: Chanie Wenjack. This 60-second Heritage Minute tells the story of Chanie "Charlie" Wenjack, whose death sparked the first inquest into the treatment of Indigenous children in Canadian residential schools. For more "Indigenous History "minutes, visit Historic a Canada's collection of 60-second short films, each depicting a significant person, event or story.
Read the Truth and Reconciliation Commission of Canada: Call to Action Report. The TRC was a part of the Indian Residential Schools Settlement Agreement and had a mandate to document and prepare a comprehensive historical record on the policies and operations of the schools and produce a report that includes recommendations to the Government of Canada. The TRC completed its work in 2015.
Understand our full history and how it affects us today. The University of Alberta offers a free and in-depth 12-lesson course called Indigenous Canada from their Faculty of Native Studies. This course explores key issues facing Indigenous peoples today from a historical and critical perspective highlighting national and local Indigenous-settler relations. Last year, Habitat Canada staff took the 4 Seasons of Reconciliation, a paid three-hour multimedia course from the First Nations University of Canada, to learn about the history and culture of Indigenous communities in Canada, the history of residential schools, and treaties around the country.
Donate to survivors of residential schools and organizations working to further reconciliation:
•Canadian Roots Exchange
•First Nations Child and Family Caring Society
•Indian Residential Schools Survivors Society
•Legacy of Hope Foundation
•Orange Shirt Society
•Reconciliation Canada
•True North Aid