Build Site Update: Leahy's Lane
Posted: 17-Apr-2021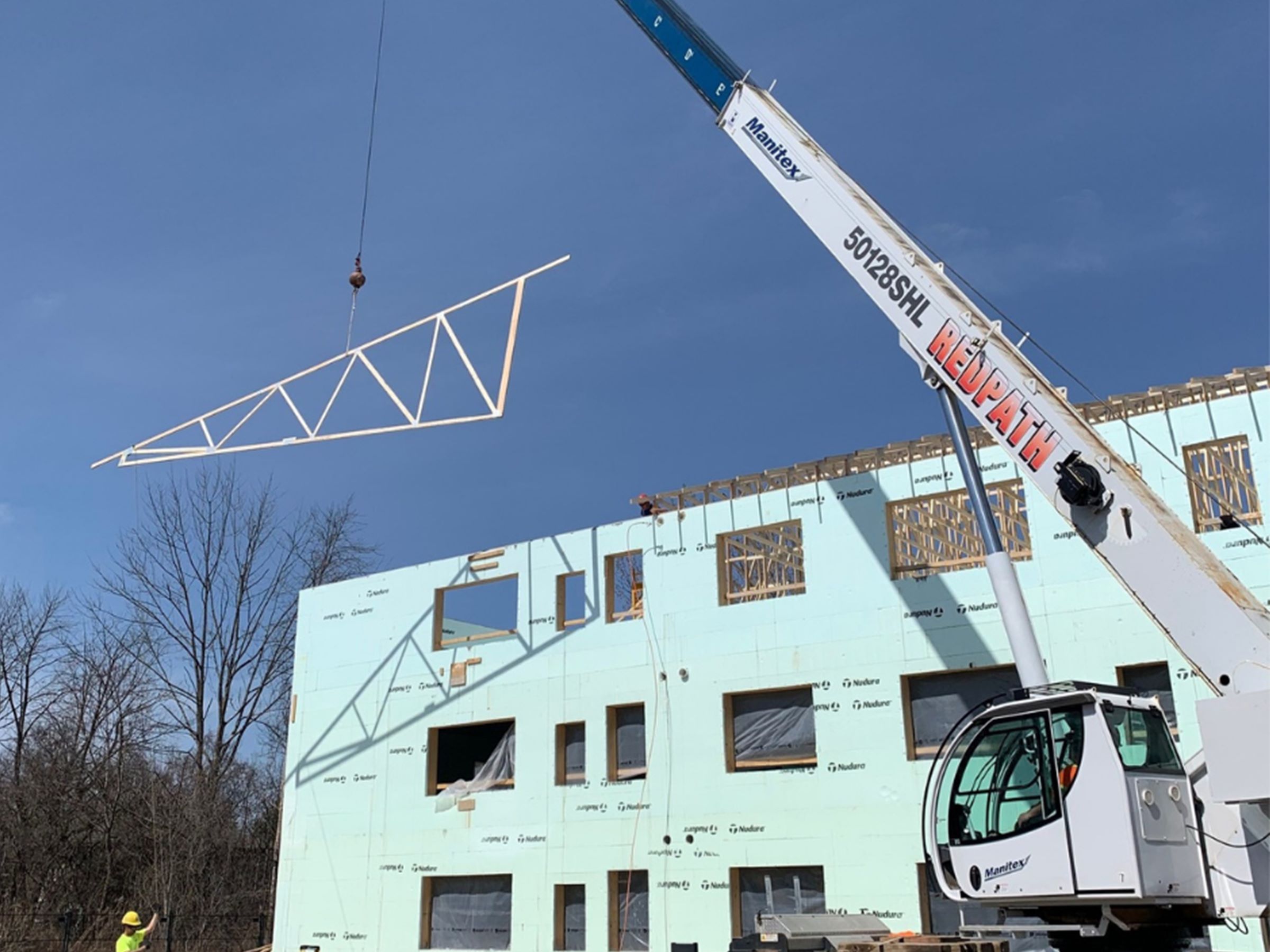 Despite the grip that a global pandemic still has on us all, one bright spot is the Habitat for Humanity Peterborough & Kawartha Region affordable condo project is well underway on Leahy's Lane in Peterborough.
This month a special thank you goes out to the incredible partners who have helped us put a roof over this 41-unit condo project: Mitek Inc, Peterborough Truss, Alf Curtis Home Improvements, Kevin Redpath & Co, and R&M Smith Contracting. If these trusses could talk … they would speak of all the kindness, dedication, and passion that have gone into building them – thank you!
The sky is the limit if you have a roof over your head.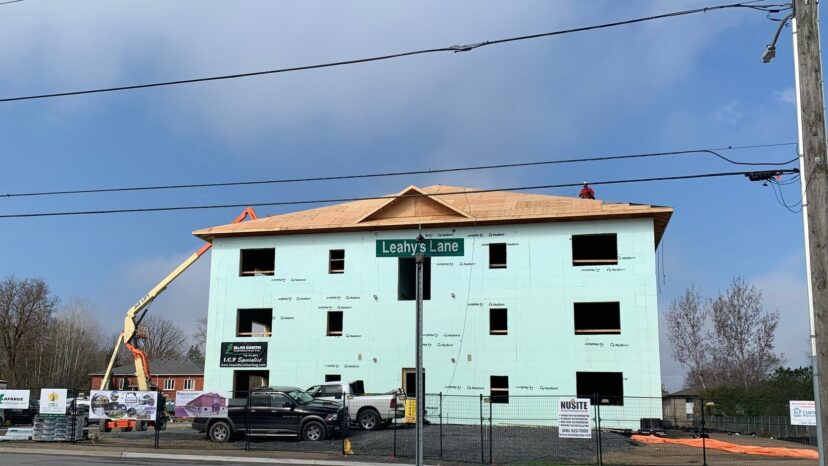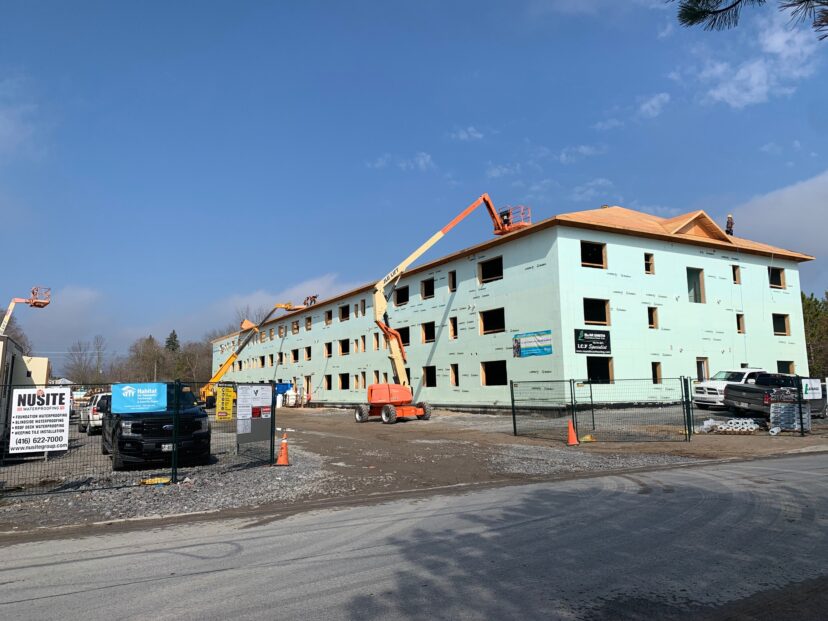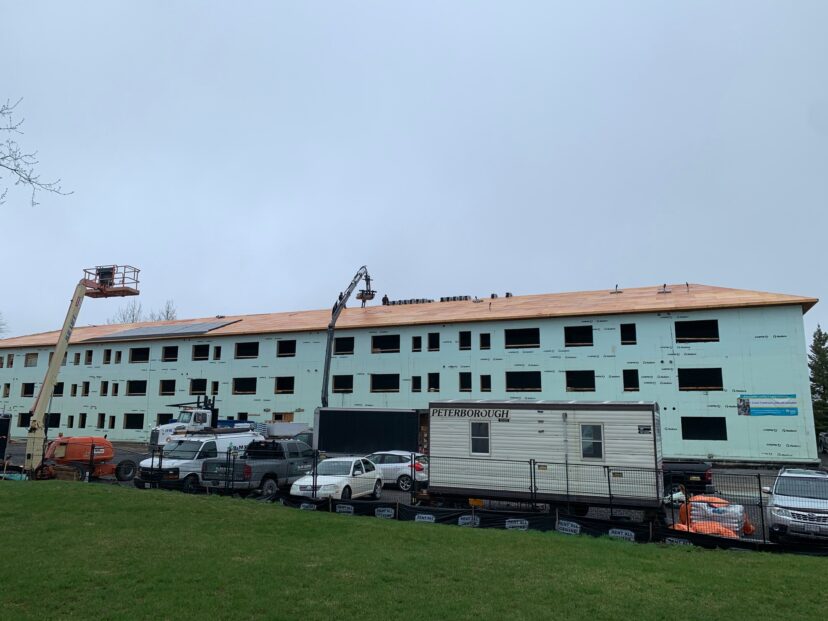 The R&M Smith Contracting crew have persevered through a week of April showers, carrying on with the installation of plywood roof sheathing, and the NorthStar Window package was successfully delivered to the site.
Meanwhile down below, there has been a lot happening such as leveling, insulation, reinforcing, and elevator work. And the crew from Solar Erectors/Coreslab worked on the ground floor carefully coring precast concrete hollow core floors. A big thanks to the crews from Peterborough Concrete Floor Ltd, Kawartha Metals, and Central Steel Works for their dedication and support because:
You can't build a great building on a weak foundation.
On deck next is the concrete pour of the main floor slab (if weather permits), the completion of roof framing and sheathing, and the continued full-steam effort towards getting a water-tight roof and building envelope.
It's not too late to donate to support this build. If you would like to donate to this build to help build strength, stability, and self-reliance through affordable homeownership, please click here. Strong and stable homes help build strong and stable communities.
Stay tuned for further updates on our progress with this exciting development.
Are you ready to become a homeowner? Applications are still being accepted for 1, 2, and 3-bedroom condos. This might be the first-time homeownership opportunity for you. Click here for more info.