Progress on Leahy's Lane
Posted: 05-Mar-2021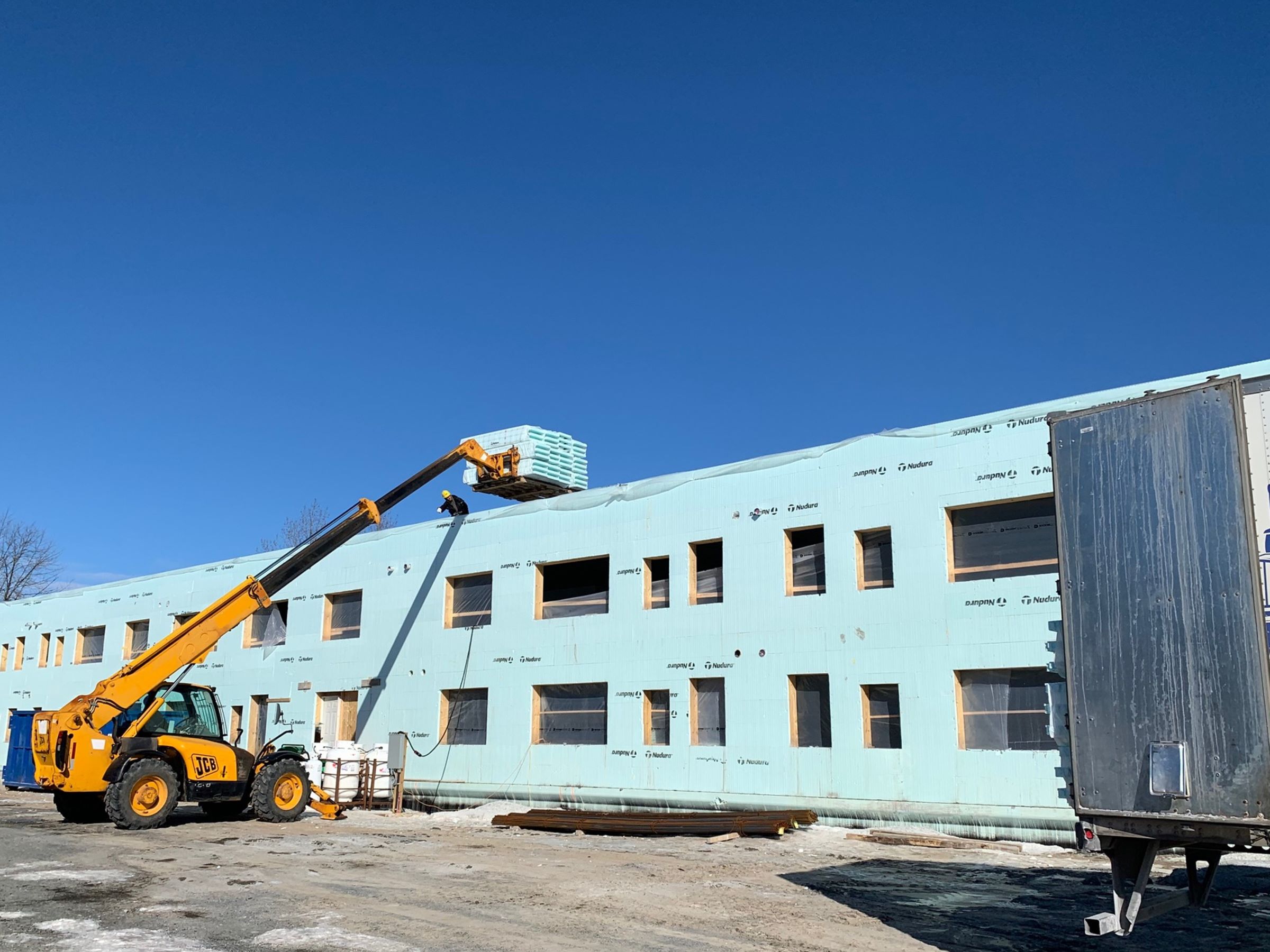 We're continuing to make great progress on the Leahy's Lane Build. Last week marked 30 weeks since ground-breaking on this innovative new 41-unit affordable housing development for Habitat for Humanity Peterborough & Kawartha Region. This much-needed condo development will help 41 local families and individuals gain safe, decent, and affordable homeownership with a geared-to-income mortgage.
And just like 30 weeks ago, Drain Bros was back on-site with machinery last week – this time to clear away mounds of snow against and at the base of the building that had accumulated throughout the winter (and not melted). With welcome warmer weather in the nearer forecast (hopefully), this snow removal was done in order to allow for the machinery to be able to move around the perimeter sooner rather than later.
Another milestone – the team from R&M Smith Contracting received Nudura's final shipment of Insulated Concrete Forms (ICF's) on-site. These will be used once more in the construction of exterior perimeter and interior corridor load-bearing building walls for the 3rd (and final) top floor of the building. The crew had continued to persevere through some raw, cold, and windy days on-site. Well done everyone – thank you!
Next up – This week Kawartha Metals will be delivering the last of the rebar for use in these walls and Wuis Bros will be back once again with the 61M pump to help the Smith crew get LaFarge's ICF mix up and into the 3rd-floor exterior walls, all under the watchful eye of Cambium's materials' testing team. Off-site, Peterborough Truss has been busy manufacturing roof trusses, and the building's new custom high-efficiency mechanical make-up air unit that has been months in production will be heading our way.
Go team – teamwork truly does make the dream work! A special thanks to everyone that has donated to make this project possible and to everyone who has contributed their energy, resources, and time to make this innovative development possible and to keep us on schedule.
It's not too late to donate to support this build. If you would like to donate to this build to help build strength, stability, and self-reliance through affordable homeownership, please click here. Strong and stable homes help build strong and stable communities.
With the white-hot housing market continuing to rage on in the Peterborough and Kawartha Region, and seemingly no end in sight to bidding wars, high prices, and low inventories, it is becoming harder and harder to get into homeownership. Habitat for Humanity is needed now more than ever to help give local families, singles, couples, and seniors, a hand-up into decent, affordable homeownership.
Stay tuned for further updates on our progress with this exciting development.
Are you ready to become a homeowner? Applications are still being accepted for 1, 2, and 3-bedroom condos. This might be the homeownership opportunity for you. Click here for more info.